Revolutionize Your Business,




Unlocking Business Potential.

Streamline Operations, Optimize Efficiency, and Fuel Growth




with our Integrated Business Solution
Meet Atmos,
Your business's
Swiss Army Knife
Seamless Business Integration
Atmos ERP seamlessly integrates your business processes, from sales and inventory management to financial tracking. Just like a Swiss Army knife, Atmos is your all-in-one tool for a smooth and efficient operation.
Customized Solutions
Atmos adapts to your business needs with customizable features and modules. It's the Swiss Army knife of ERP systems, offering tailored solutions to enhance productivity and drive growth.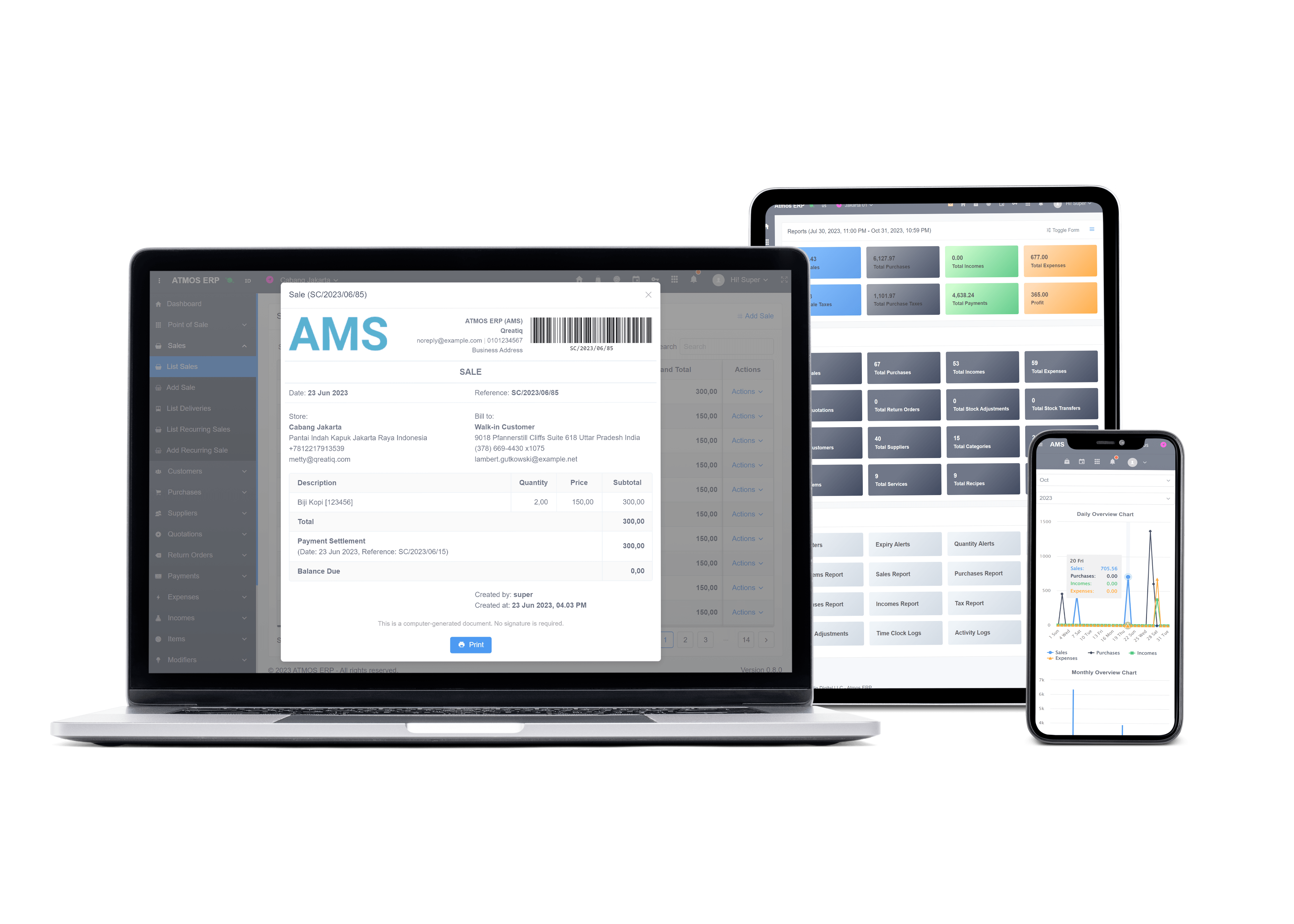 Empower Your Business with Atmos ERP
Atmos ERP is the catalyst for business transformation. This comprehensive platform empowers you to streamline operations, manage inventory, and make data-driven decisions with ease. With features like effortless item creation, location-based stock control, and customizable reporting, Atmos ERP puts you in the driver's seat of your business's success. Adapt, grow, and thrive in a dynamic market, supported by a tool that simplifies complexities and enhances efficiency. It's time to unlock the potential of your business with Atmos ERP and embark on a journey of growth, innovation, and excellence.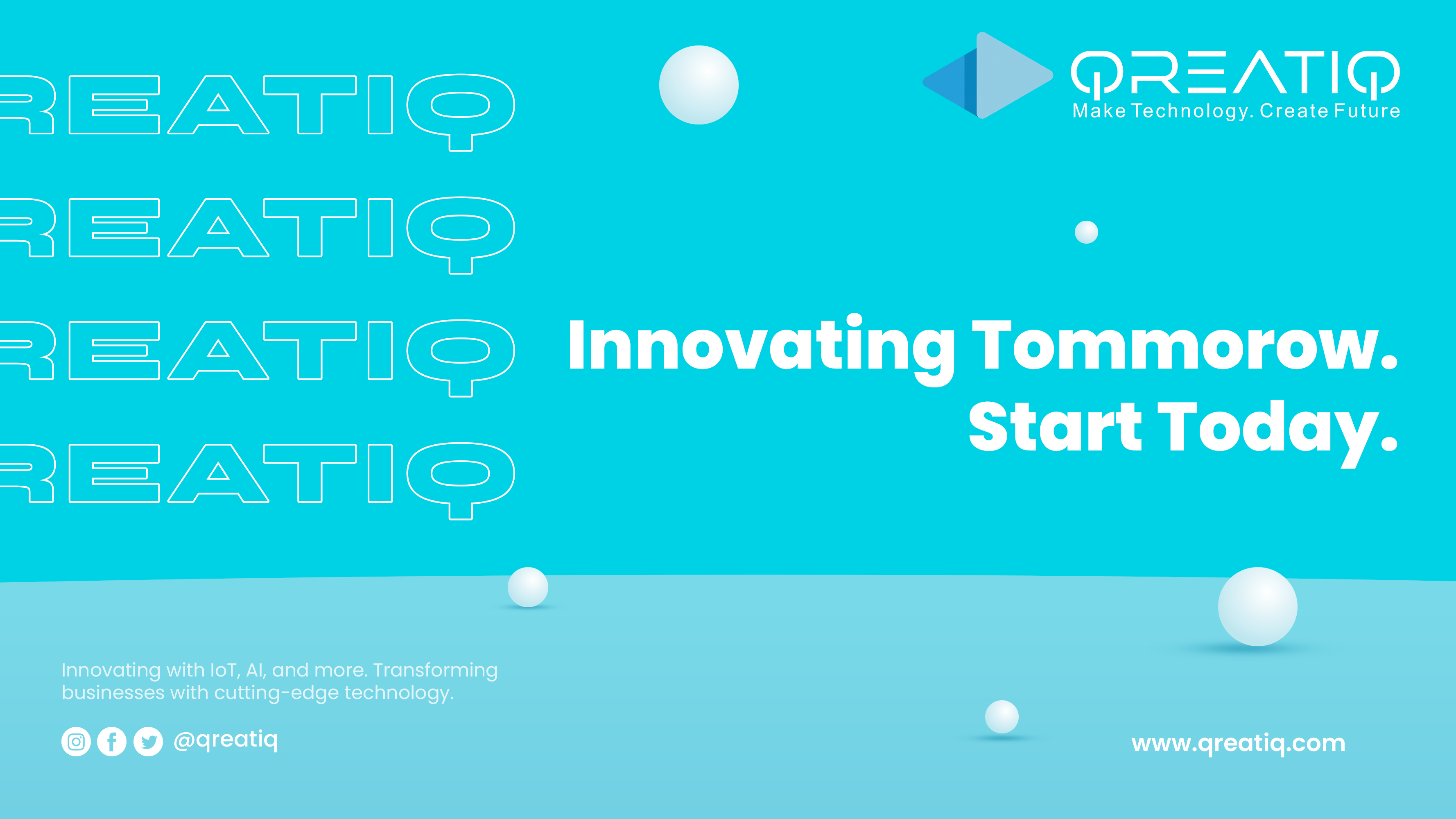 Global Operation
Supports multiple languages, currencies, and regulations to facilitate your global operations.
Integrations
Integrates with various applications and platforms to enhance your productivity and collaboration.
Team Collaboration
Promote teamwork and communication within your organization, ensuring everyone is on the same page and working toward common goals.
Your Command Center for Business Success
Unlock the power of Atmos ERP Dashboard, your ultimate command center for business success. Gain real-time insights, make informed decisions, and steer your business to new heights with ease. Customize it to fit your unique needs and stay in control, wherever you are. Welcome to a brighter, more efficient future for your enterprise.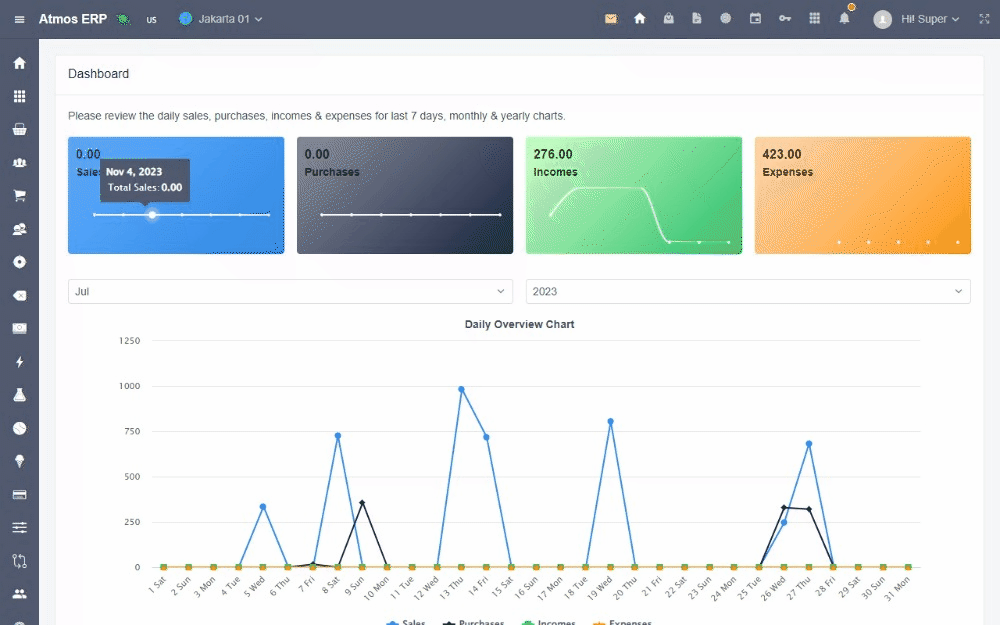 Your Business's Control Center
The Atmos ERP dashboard is your gateway to streamlined business operations. Gain real-time insights into sales, inventory, and finances. Track performance, monitor key metrics, and make informed decisions effortlessly. With an intuitive interface and customizable widgets, it's your business's command center for success. Embrace the future of management with Atmos ERP.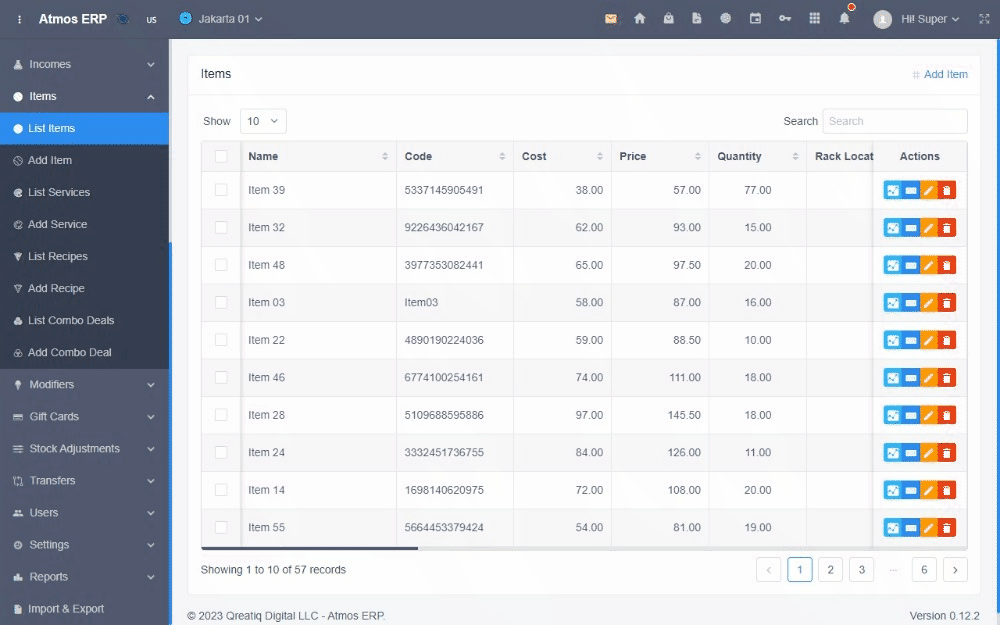 Manage Item with Ease
Atmos ERP's Item Creation feature simplifies the core of your business operations. Swiftly add new items with user-friendly interfaces, defining vital details like name, category, and pricing. Create and manage item variations, making diverse product offerings a breeze. For businesses with multiple locations, allocate and track item quantities with ease. Maintain precision with serial number tracking. Atmos ERP is adaptable, catering to unique business needs. This feature streamlines operations, reduces manual effort, enhances accuracy, and provides a solid foundation for business growth. In a fast-paced world, Atmos ERP ensures item creation is efficient, precise, and seamless.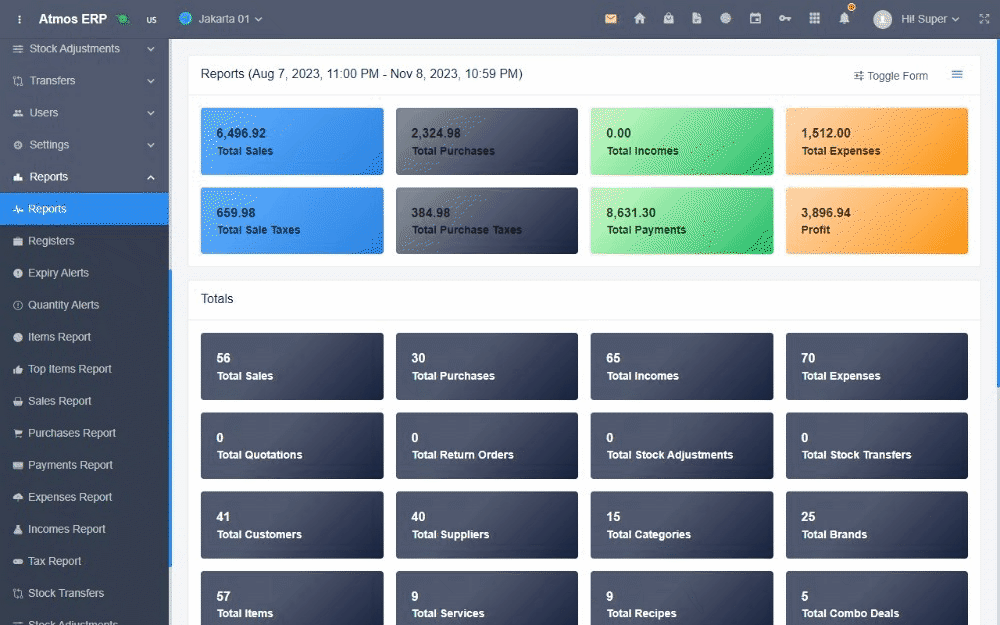 Dive into Data with Atmos ERP Reports
In today's competitive business environment, data-driven decision-making is paramount. Atmos ERP reports offer a gateway to actionable insights. With streamlined reporting, a wide range of analytics, and customizable views, you can tailor your data to fit your business needs. Transform raw data into informed decisions that drive growth, efficiency, and profitability. Make every data point count with Atmos ERP's reporting feature and gain the competitive edge you need to succeed.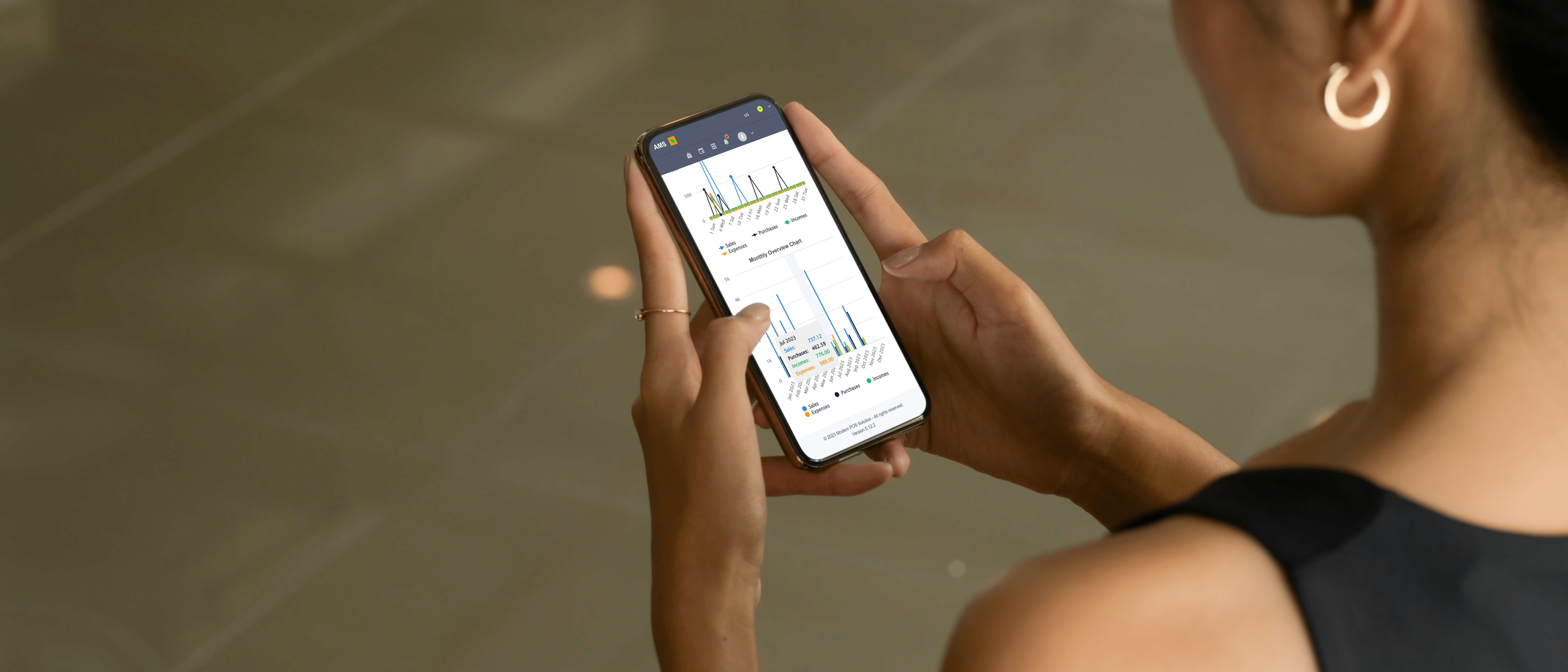 On-the-Go Accessibility
With Atmos ERP's mobile accessibility, you can access your business data and operations from anywhere, at any time. Atmos ERP empowers you to manage your business effectively and efficiently, regardless of your location. This benefit ensures that you can keep your finger on the pulse of your operations and stay connected to your team and customers, all from the convenience of your mobile device.
Streamlined Efficiency
Atmos ERP optimizes your business processes, reducing manual tasks and enhancing productivity.
Data-Driven Decision-Making
Access real-time insights to make informed decisions that drive your business forward.
Scalable and Customizable
Atmos grows with your business and adapts to your unique needs.
Customization
Tailor Atmos to fit your specific business needs, ensuring it adapts and evolves with you.
Anywhere Access
Stay connected to your business, whether in the office or on the go, ensuring you're always in control.
Enhanced Customer Relations
Provide better service and build lasting relationships.
Where Efficiency Meets Excellence
In the ever-evolving landscape of business, success is not only about what you offer but how you manage it. Atmos ERP is your essential partner in this journey, a versatile and powerful platform designed to streamline your operations, empower your decisions, and drive your business forward.
Efficiency Redefined
Atmos ERP simplifies complex tasks, reducing the burden of manual work and allowing your team to focus on what truly matters.
Data-Driven Insights
Our robust reporting and analytics provide you with valuable insights, helping you make informed decisions that lead to growth and profitability.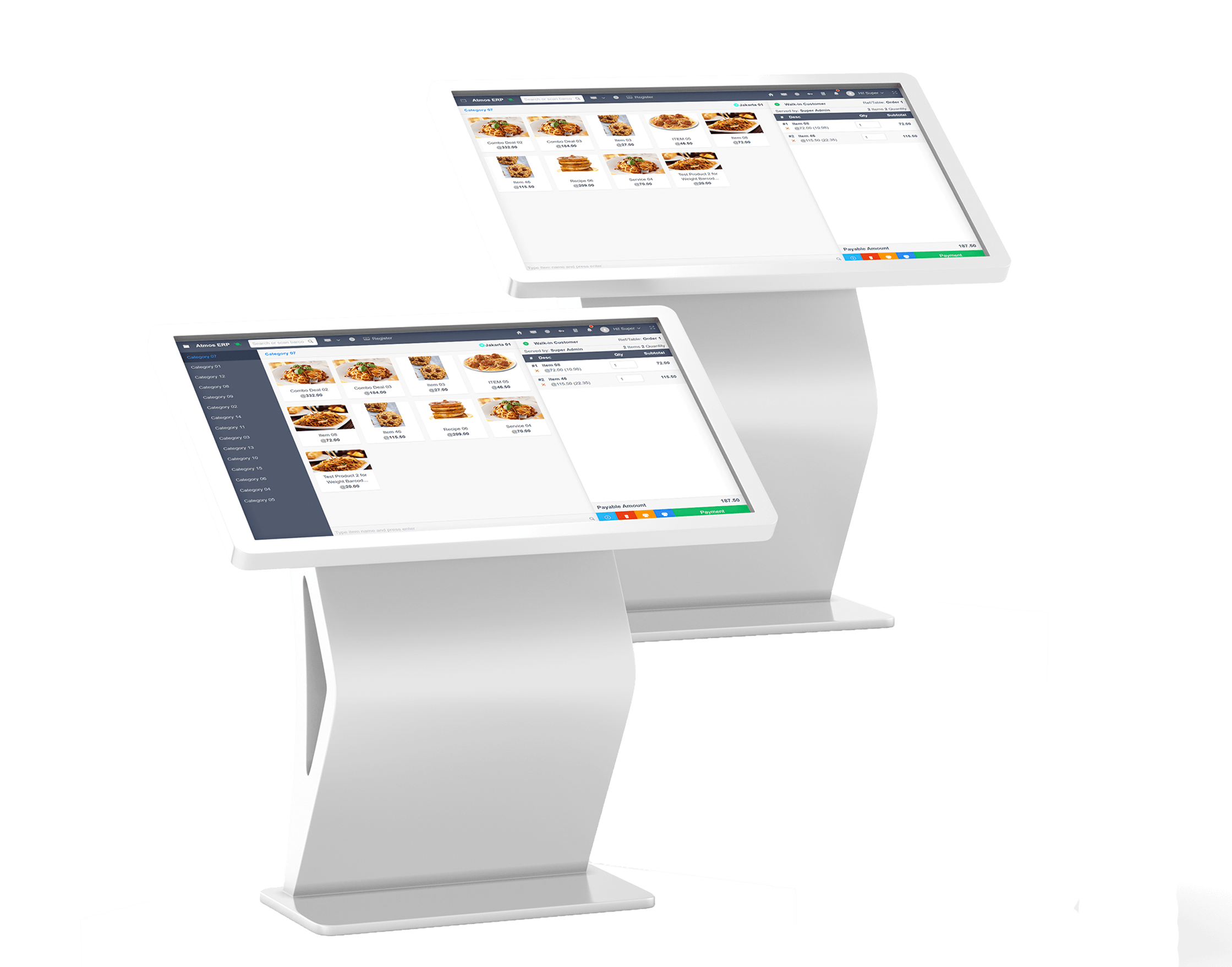 Customer-Centric Approach
With features like item variations and location-based stock control, you can enhance your customer service, reduce stockouts, and expand your product offerings.
Adaptability and Scalability
Atmos ERP grows with your business, ensuring that your investment remains relevant in an ever-changing market.
Embrace the future of business management with Atmos ERP. Our all-in-one solution empowers you to streamline operations, make data-driven decisions, and achieve new levels of success. Join a growing community of businesses that have harnessed the power of Atmos ERP to optimize their operations. It's time to elevate your business.
Explore the Atmos ERP features.
With Atmos ERP, you can grow your accounts faster, find new customers faster, and close deals faster — from anywhere.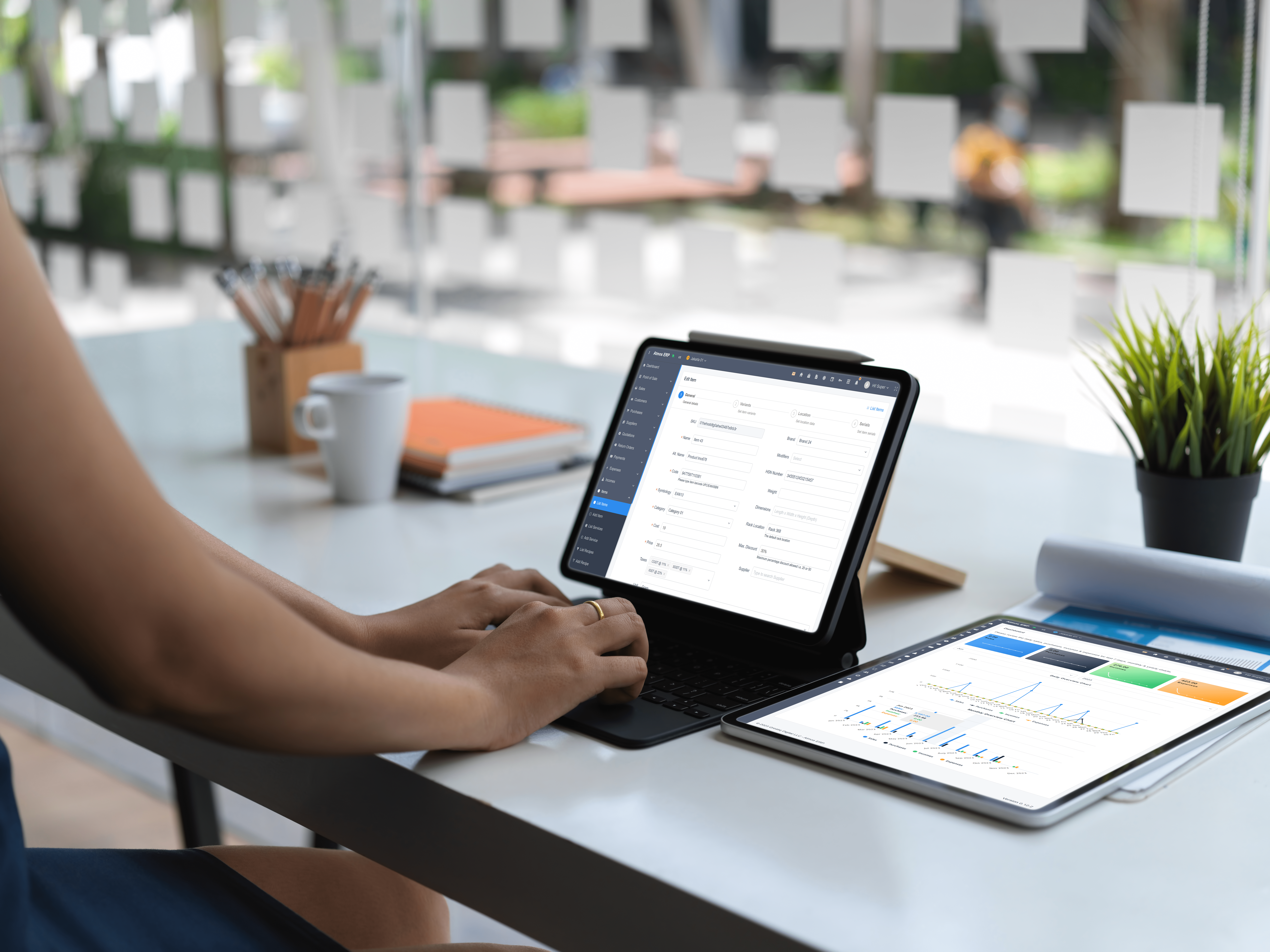 Your Business, Anytime, Anywhere
In today's fast-paced business landscape, mobility is a game-changer. Atmos ERP offers seamless multi-device support, ensuring you're always in control of your operations. Whether you're at the office, on the road, or working from home, Atmos ERP provides access to essential business tools. Its user-friendly interface adapts perfectly to any screen, offering consistency and ease of use across devices. With Atmos ERP, you're empowered to manage operations, oversee inventory, and make critical decisions from anywhere. Elevate your business with the freedom and efficiency of multi-device support. Your business, in your hands, anytime, anywhere.
Start small, and scale up. or support your entire enterprise today. Whatever your business, we have a solution for you.
People just like you are already loving Atmos ERP
Revolutionizing Business in Indonesia: Atmos ERP has completely revolutionized the way we operate our business in Indonesia. It's not just software; it's our strategic partner in success. The streamlined processes, especially in item creation and inventory management, have allowed us to cut down on manual efforts and focus on growth. With its adaptability to different business models, we can confidently scale our operations. Atmos ERP is the driving force behind our increased efficiency and customer satisfaction.

Empowering My Business in Japan: Atmos ERP has truly been a game-changer for my business here in Japan. As a woman entrepreneur, the ease of use and efficiency that Atmos ERP brings is invaluable. It's like having a dedicated partner who takes care of the intricate details, allowing me to focus on strategic decisions. With its diverse features, especially item creation and inventory management, I've seen a remarkable improvement in my business's operations and overall growth. Atmos ERP is a trusted ally for success, and I couldn't be happier with the results.

A Game-Changer in Asia: As a company based in the heart of Asia, we understand the need for efficient and adaptable business solutions. Atmos ERP has truly been a game-changer for us. Its seamless integration into our operations, from item creation to multi-location stock control, has given us the competitive edge we were seeking. The reporting and analytics tools have allowed us to make data-driven decisions and stay ahead in our industry. In a region known for its dynamism, Atmos ERP has proven to be the ideal partner for businesses aiming for success.

Customer Satisfaction Elevated: Atmos ERP has completely transformed the way we serve our customers. With the ability to manage item variations and stock across multiple locations, we've seen a remarkable improvement in customer satisfaction. The system's user-friendly interface and robust features make it a top choice for businesses looking to enhance their operations. Highly recommended!

Adaptable and Efficient: Atmos ERP's adaptability is its standout feature. As a growing business, we needed a system that could scale with us. Atmos ERP not only met our needs but exceeded our expectations. The reporting and analytics tools have been invaluable for our decision-making processes. It's more than just software; it's a strategic partner for our business.

A Business's Best Friend: From item creation to inventory management, Atmos ERP has taken the hassle out of running our business. It's the ultimate Swiss Army knife for modern enterprises. We can now focus on what truly matters – serving our customers and growing our business. Atmos ERP is a game-changer, and I can't imagine managing our operations without it.

The Key to Efficiency: Atmos ERP has become the backbone of our business. With its automated processes, we've cut down on manual errors and increased our efficiency tenfold. The reporting feature has given us a clear picture of our performance, enabling us to make data-driven decisions. If you want to streamline your operations and stay ahead in the market, Atmos ERP is the solution you've been waiting for.

A Game-Changer for Business: I can't express how much Atmos ERP has transformed the way we operate. It's like having a trusted partner that takes care of the complex business processes, leaving us with more time for strategic decision-making. The reporting and analytics tools have provided insights that we couldn't have imagined. This software is a must for any business looking to succeed in today's competitive environment.
Make every customer feel understood.
100+
CUSTOMERS USING OUR ATMOS ERP
Limitless
POTENTIAL FEATURE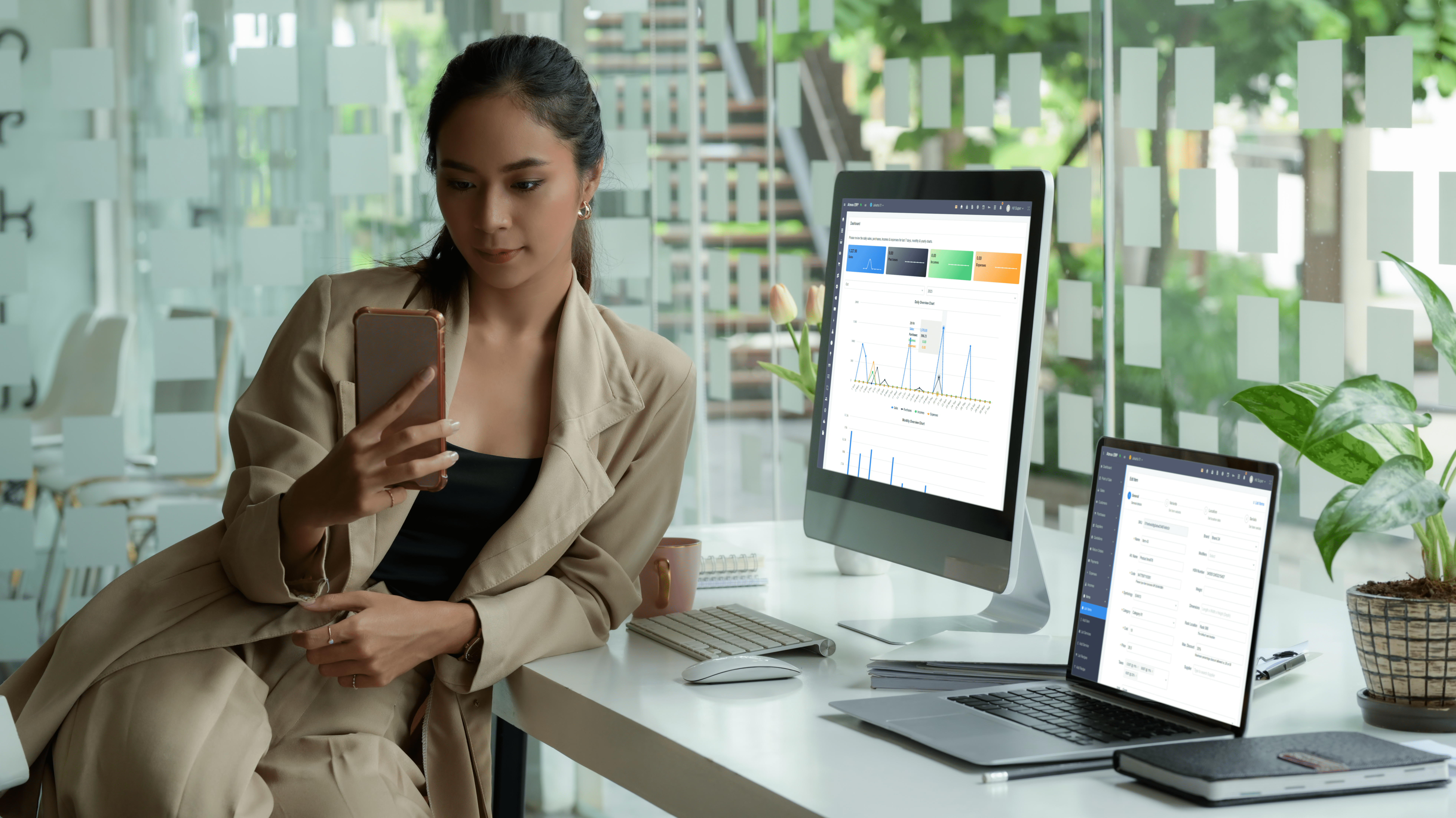 Unlock Business Success with Atmos ERP
Atmos ERP is your all-in-one solution for streamlined operations, enhanced efficiency, and data-driven decision-making. It empowers businesses to manage item variations, inventory, and customer demands effectively. With its adaptability and scalability, Atmos ERP caters to diverse business needs, ensuring you stay ahead in the market. Say goodbye to manual tasks and errors as Atmos ERP automates essential processes, providing valuable insights into your business's performance. It's the catalyst for success, optimizing your operations and helping you make informed, strategic decisions. Join the growing community of businesses thriving with Atmos ERP and elevate your business today.
Join to Atmos Ecosystem
Join the growing of businesses that rely on Atmos ERP to streamline their operations and achieve their goals. Atmos ERP is more than just software; it's your partner in business success. Ready to see Atmos ERP in action? Contact us today to schedule a demo and discover how it can revolutionize the way you manage your business. Don't miss the opportunity to take your business to the next level with Atmos ERP. Your success story begins here!